Barcelona hosts a parade where players and coaching staff board an open-top bus. Take to the streets to celebrate with the fans. After winning the La Liga title successfully,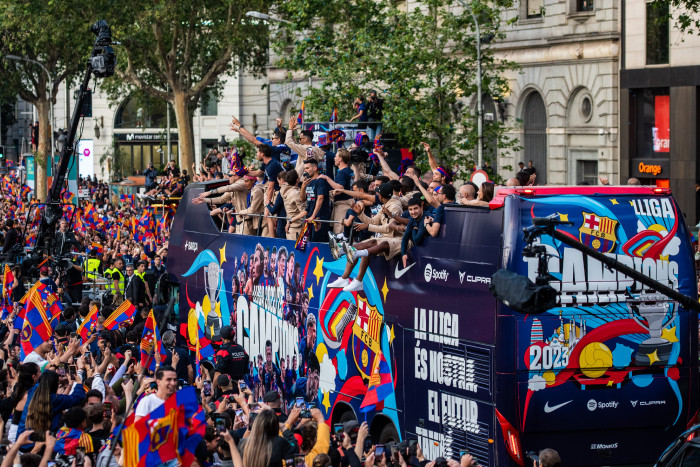 there are still four La Liga matches left. But the owner of the championship is definitely after Barcelona's invasion of Espanyol, the city's rivals on Sunday. -2
Even after the battle of the Catalan derby. There will be an incident where Barcelona footballers are chased by local fans who are dissatisfied with the celebration and invade the field. Causing me to quickly escape into the tunnel But their championship celebrations did not falter.
Barcelona players Start celebrating in the dressing room. After leaving RCDE Stadium, home to Espanyol, they continued the party at a nightclub in the center of the city, with club president Joan Laporta celebrating in the dressing room by being poured with champagne by the team's players.
Then take them to dine at a fancy restaurant with Xavi Hernandez, coaching staff and executives.
Gerard Romero, a famous journalist, also reported that Neymar Star Paris Saint-Germain undergoing injury Appeared at the party as well as Lionel Messi teammates Video call came to congratulate.
The next day, the Catalan giants immediately started celebrating again. Organize a parade through the streets. Spanish media estimated that around 80,000 fans attended
the car, with Barcelona players including Robert Lewandowski, Frenkie de Jong and Ga. B. At the beginning of the procession, Xabi, the head coach, opened the event by himself pouring beer down for the fans to drink.
Barca's official media revealed a clip of Lewandowski stepping out in the car. At the same time, football fans, viewers are in the accommodation. De Jong's mannequin plaque shows off his passion for Dutch midfielders
Celebrations in Barcelona's city center continued into the night, with Xavi's side set to return to action on Saturday at home to Real Sociedad.